Fish Schtick Episode 82 – Nanci Morris Lyon & Kate Taylor
Audio clip: Adobe Flash Player (version 9 or above) is required to play this audio clip. Download the latest version here. You also need to have JavaScript enabled in your browser.
Subscribe to Fish Schtick on iTunes
Download MP3 version HERE
It's Friday, September 23, 2011
Thanks today to BossTin and Fish Itch; The Fish Schtick is presented by Fishhound. Fishhound is the world's largest provider of real-time fishing reports delivered directly to you from licensed guides & boat captains – fresh off the water. With coverage on thousands of waters, you'll know where to go, when to go and what to throw. Interactive maps, GPS coordinates, mobile apps and more… Sign up for free today at www.fishhound.com.
Fishhound Fishing Report
The Montana Angler in Bozeman reports that the Lower Madison is 5 stars right now. Good flows temps, so look for big eats if you are willing to commit to a hopper. Nymphs almost always outfish dries on the lower. Fish the buckets between the weedbeds or the fast runs for the most action.
Brian is still out east, and the stripers are going good. Concord Outfitters in Connecticut says the Farmington is back in tip top shape. The high water has receded and the silt has settled down. Good fishing throughout the TMA to be had right now. If you've been holding off due to high water flows, stock your boxes with tan caddis and pheasant tails and you should be in good shape.
Probably the best fishing in the Ozarks right now is on the White River below Beaver Lake if you listen to Just Fishin' guides in Bentonville. Wade it  from the dam to Parker Bend, but you'll find the better fishing from just above Cane Break to Parker Bottom. The river bottom has changed with some new holes, so be careful. Try small streamers and soft hackles early, then nymphing later in the day.
For a free fishing report on waters near you, www.fishhound.com.
Guest Intro
Nanci Morris Lyon & Kate Taylor fished Alaska's Naknek River, a tributary to Bristol Bay in this year's 24 Hour Fish-A-Thon. They were our fundraising leaders by such a wide margin that they out-raised last year's entire 24 Hour Fish-A-Thon. It's a testimony to who they are, what their fishery is about, and how much passion people have for defeating Pebble Mine. They join us today from Alaska Sportsman's Bear Trail Lodge .
Brian / Moldy Chum News
Brian's on vacation this week so we're sure he'd want you to see the video postcard by Don Himsel from Cape Cahhhd: http://www.moldychum.com/home-old/2011/9/22/cape-cod-fly-fishing-video-postcard.html
There's a really cool post on September 20 of some artists who painted a giant pair of scissors cutting down a dam in Ojai: http://www.moldychum.com/home-old/2011/9/20/an-anonymous-band-of-artists-paints-a-huge-pair-of.html
And as a Wild Steelhead Coalition member, I'm sure Brian would mention that the Elwah Hatchery deal is going to court: http://www.moldychum.com/home-old/2011/9/19/send-lawyers-guns-and-money.html
Teeg / Recycled Fish News
Fish Itch – it's alive! http://fishitch.com
The 24 Hour Fish-A-Thon was a record SMASHER!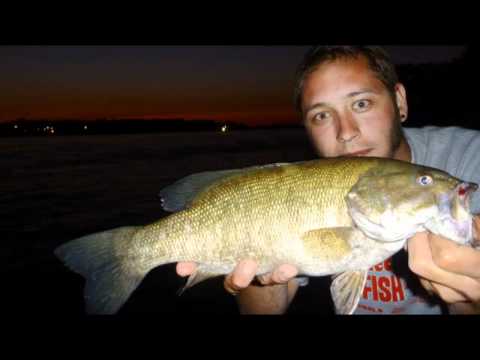 The Recycled Fish Online Fly Shop is now up and running, powered by West-Fly
Michael Mauro News
You're back from a couple of weeks up in Alaska – how was that?
Around the world of fishing in 120 Seconds
Brought to you by BossTin – makers of environmentally friendly fishing weights for the fly and conventional tackle angler.
Good news! In Washington, DC Vanishing Paradise gains a win. The Senate Environment and Public Works Committee approved The RESTORE the Gulf Coast States Act with a strong showing of bipartisan support. More at VanishingParadise.org.
In Iowa, writers, outdoor companies, non-profits and government stakeholders came together this week for the AGLOW conference. It's not anything nuclear or gay rights, kinda sounds like both, it's the Association of Great Lakes Outdoor Writers Conference. Met at Honey Creek Resort on Lake Rathbun.
In Arizona – this is cool – kids should visit Arizona's Fossil Creek opening on Oct. 1st for a unique fishing experience. They can catch native roundtail and headwater chub at one of Arizona's two travertine streams.
In every stinkhole in America – Carp Fishing is on the rise! USCARPPRO MAGAZINE from California and  Wild Carp Companies from New York – creators of the Wild Carp Club – are combining efforts to make carp and other rough fish angling a more high-profile "thing" here in the States.
Take competitive catfishing for example. October 1st in Alabama, Wheeler Lake hosts the Cabela's King Kat Super Event – the winner will take home $10,000.
On the web – PAA Auctions are back, giving you a way to own one-of-a-kind fishing gear while supporting the Professional Anglers Association.
Oh – and also on your computer – Fish Itch is now live, save scratch and raise cash with the new site that gives great deals on fishing tackle while raising funds for conservation, FishItch.com.
In competitive bass fishing – Michigan's Nate Wellman has been branded a cheat and fined by B.A.S.S. for offering to buy a fish from his co-angler. This week he was banned by the PAA for a year. We asked him to come on The Fish Schtick. Promised we'd be even-handed. He turned us down. Huh. Cheater.
This week's Stewardship Tip: Ever heard of white perch? Native to the east coast they're a menace to waters in the Midwest, and they're still moving around thanks to idiots who dump their bait buckets. Don't do that!
More fishing hoopla at moldychum.com – Stewardship Tips and more at www.RecycledFish.org. I'm Teeg Stouffer and we just went around the world of fishing in 120 seconds thanks to Boss Tin at BossTin.com.
Guest Intro / Interview
Nanci and Kate are heroes. I think we actually had Kate Taylor on a long time ago in a "Live from Baja" episode, maybe? She runs Rogue Angels, a worthy visit on the web. Nanci's responsible for the good things happening at Bear Trail Lodge, and together, they took on Pebble Mine through this year's 24 hour Fish A Thon, they absolutely rocked the house.
We always start on a fish story and we know you've got one – what was your 24 hour fish-a-thon like?

Talk about your big fish, and the big one that got away.
You guys had a unique set of risks if you had decided to fish through the night …
It must be nearing the end of the season up there – what were some of your best trips up there?
We hate making weird gender distinctions when we have female anglers on but there usually is a story or two from female guides…
Best and worst: best people you've ever guided and worst people you've ever guided.
Talk about your fishery – what's it all about?

Conservation Topic
You guys were focused on the problems posed by Pebble Mine – what's the problem, what's the threat, how do people fight it?
Quote of the Week
That land it ain't mine
But that land ain't their mine
This land is our land
And we've gotta take a stand in our backyard
- Mark Bilyeu / Big Smith / Quarry Anthem
Close:
Where can we find everybody on the web?
The Fish Schtick Podcast Crew
Brian Bennett
Twitter – @moldychum
Facebook – Moldy Chum
Web – http://www.moldychum.com
Teeg Stouffer
Twitter – @TeegStouffer
Twitter – @RecycledFish
Facebook – Recycled Fish
Web – http://www.recycledfish.org
Michael Mauro
Twitter – @mauromedia
Facebook – mauromedia
Web – http://mauromedia.com
Subscribe to the Fish Schtick on iTunes here.
That's the Schtick for another week, with thanks again to our friends at Fishhound – real time fishing reports on thousands of waters across the country for free at www.Fishhound.com. Thanks also to BossTin, online at www.BossTin.com. The Fish Schtick is also distributed by Bloodknot Magazine, read it online for free at www.BloodKnot.net.
Remember that our lifestyle runs downstream . Good Cheer, Blessings and Great Adventures.

Podcast: Play in new window
| Download