Fish Schtick Episode 28 – The Ice Fishing Spectacular
Audio clip: Adobe Flash Player (version 9 or above) is required to play this audio clip. Download the latest version here. You also need to have JavaScript enabled in your browser.
Subscribe to Fish Schtick on iTunes
For today's show, we've got something special – our Ice Fishing Spectacular. We'll be talking to some of our favorite personalities from across the world of ice fishing, from some of the biggest names to some of the rising stars. You're gonna love today's show, whether you're in to ice fishing or not. We've got Dave Genz, the man who invented modern ice fishing as we know it. Ice Team Power Stick Rod Woten is with us from Iowa, and Don Cox joins us from Calf Creek Ranch in Nebraska. Mike McNett, host of the Ice Men show on Versus takes his turn at the microphone as well.  In the world of ice fishing, this is a star-studded Fish Schtick, let's get going!
Brian / Moldy Chum News
Dueling Consumer Fly Show Weekend
Over the River
Musky Chronicles
Slab of the Year
Teeg / Recycled Fish News
Eco Friendly Ice Fishing
We hit the ice this week! Okoboji Hardwater Open is this weekend
Reel Weeds and Reel Magic are both on board
Check the Recycled Fish Ice Fishing 301 Video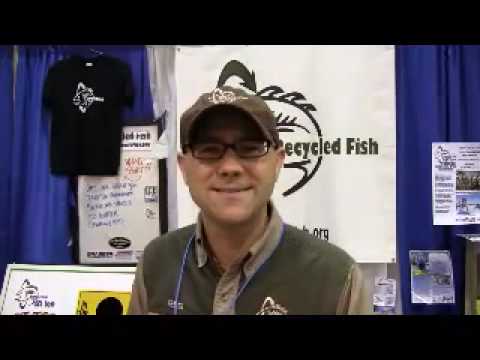 Around the world of fishing in 120 Seconds
********************************
Guest Intro / Interview
********************* Dave Genz *********************
Dave Genz has been called "The Godfather of Ice Fishing," the "Grandfather of Ice Fishing," and "Mr. Ice Fishing." If you're noticing a trend, it's because everybody on the ice today owes something to Dave, who is something of a living legend in the ice fishing world. He invented the "Fish Trap" style ice shelter, developed the ways that modern electronics are used in ice fishing, and today his name is on an ice fishing product in nearly every category from rod and reel combos to his namesake Fish Traps, now owned by Clam Corporation. He's also a heck of a nice guy, he patiently educates hundreds, if not thousands, of anglers every year across the ice belt on how to be more successful when they're out on the ice.
- Talk us through what ice fishing was like when you started, and what it's become
- You do talks and seminars across the Ice Belt – how does the ice fishing community vary from west to east?
- What are the more exciting advancements that you've seen, or that you're seeing now?
- We've talked about the role of moms in fishing, and selective harvest – what's your take on some of these important parts of the future of our sport?
Where can people connect with you on the web, Dave?
********************* Rod Woten *********************
If you live in the Midwest and you pick up any outdoor magazine this winter, Rod Woten will either have written an article in it or be quoted in it. If you go to a major event, you're liable to see him there. Rod is a good friend and an ambassador for Recycled Fish, he's also an Ice Team Powerstick – in other words, and ice fishing pro. He's also on the Pro Staff for Strikemaster Augers, Vexilar and Reel Weeds, and he organizes the Ice Fishing Derby for the Iowa Winter Games.
- Your season started with the NAIFC Championships in Rhinelander, you had some unexpected stuff happen during pre-fishing
- You are fishing the Okoboji Hardwater Open this weekend, you've got some good memories from 'Boji, don't you?
- People who don't ice fish imagine it being creepy when you're walking on water – anything ever creeped you out?
- What are the events you're putting together this winter?
Where can people get more of you on the web?
********************* Don Cox *********************
Without a doubt one of the top competitors and most beloved names in the world of ice fishing is Don Cox. He and his family spend a lot of time on hallowed waters in the Nebraska Sandhills throughout the winter, but they're also competitors in the NAIFC Series, and formerly in the Trap Attacks. DC is an Ice Team Powerstick, already this year he's been as far west as Utah and as far east as Rhinelander, Wisconsin both promoting the sport of ice fishing and competing.
- Have a favorite ice fishing story?
- Have you ever fallen through?
- Talk about the Refuge and what it's like.
- You feel comfortable talking about the need for selective harvest, even on panfish?
- Want to talk about the Thundering Herd and tip-up fishing?
Have a website you want to point people toward?
********************* Mike McNett *******************
We're reaching Mike in South Dakota today as he and Jack Baker set up the first regular season tournament for the North American Ice Fishing Circuit. Mike is the host of the Ice Men show on Versus – formerly on the Sportsman's Channel, it was nominated as one of the best shows on the Sportsman's Channel last year, and we'll let him explain why. He's also part of the US Ice Fishing Team, competing internationally – Mike, welcome to the Fish Schtick!
- Tell us about the Ice Men Show
- What's the NAIFC Tournament Series all about?
- Most people probably didn't even know that the USA has a national ice fishing team, what's that like, how do we stack up?
Contact Us:
Teeg Stouffer – http://www.recycledfish.org
Brian Bennett – http://www.moldychum.com
Michael Mauro – http://www.mauromedia.com

Podcast: Play in new window
| Download